Hello, jewelry making enthusiasts! I found this interesting ebook on 'How to Run a Home Based Jewelry Party Business for Fun and Profit – A Step-by-Step Action Plan for Building your Dream Business" by Lorri Ely.

 Lorri Ely is a Jewelry Designer, Business Owner, and the creator of www.Making-Jewelry.com. Several years ago, she stumbled almost by accident upon how to turn her jewelry hobby into a great profitable business. Along her journey, she read countless books about business, crafting, sales and marketing, and technology that she could apply all of the information and techniques to her own fledgling jewelry business. Over the years she spent thousands of dollars investing in her business and trying new things, and through trial and error she learned a lot of important lessons and gained invaluable experience. Now, for the first time ever, she compiled everything she learned into one comprehensive book.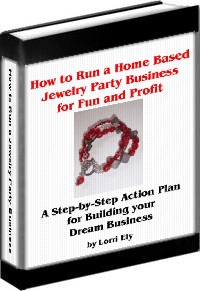 In this complete guide, Lorri is sharing all her proven tips, techniques, and secrets on how you can make your own business profitable and successful.
This amazing book is divided up into 5 comprehensive sections:
Section 1 – Getting Started
Step 1 – Your Reasons for Starting a Business
Step 2 – Establish Goals and Objectives
Step 3 – Is a Jewelry Business the Right Fit for Me?
Step 4 – Setting and Managing Expectations on your Time
Step 5 – Identify Your Customers
Step 6 – Identify your Products
Step 7 – Competition, Supply & Demand
Step 8 – Pricing Strategies
Section 2 – Business Operations and Legal Issues
Step 9 – Maintaining Records
Step 10 – Identifying Startup Costs
Step 11 – Planning to Pay Yourself
Step 12 – Projecting your Income
Step 13 – Business Legal Structure
Step 14 – Business Name
Step 15 – Handling Taxes
Step 16 – Business Licenses, Certificates, and Restrictions
Step 17 – Business and Personal Insurance
Step 18 – Credit Card Processing
Step 19 – Building an Online Presence
Step 20 – Protecting your Business
Step 21 – Writing your Business Plan
Section 3 – Sales and Marketing
Step 22 – Building Client Relationships
Step 23 – Create Marketing Materials
Section 4 – Having a Successful Jewelry Party
Step 24 – Recruiting Party Hosts with Incentives
Step 25 – Design Great Party Invitations
Step 26 – Party Preparation
Step 27 – Party Refreshments
Step 28 – What to Expect During the Party
Step 29 – New Jewelry Party Formats
Step 30 – Post Party Tasks
Step 31 – Growing your Business
Section 5 – Additional Helpful Information
Inspiration – Where to find new Design Ideas
Suppliers List
If you are interested in this book, CLICK HERE to get started right now on your jewelry party business!
Learn more jewelry making techniques from our Contributing Artists by having INSTANT UNLIMITED access to PAST and FUTURE DIY Jewelry Making Magazine issues. You will enjoy making your own jewelry and will never run out of ideas and inspirations.
Turn your jewelry making hobby into a business. Subscribe to our Membership Packages and learn how to make jewelry with DIY Jewelry Making Magazines!
MEMBERSHIP PACKAGES
One-time fee, Lifetime access

$199

 Monthly Subscription

$5.80/month