Natalie Doroshenko
My name is Natalie Doroshenko. I was born and live in Ukraine, in beautiful Kiev. I have a degree in child psychology. I worked as a psychology teacher in the university , then as a journalist. After I gave birth to two my beloved children my life had been changed. While I was on maternity leave and didn't work , I was looking for a new activity. I tried to find something creative, interesting for me. I drew pastel, oil paints, molded from polymer clay. Then I saw a wire wrapping jewelry. I fell in love. It was in 2011. Since that moment I didn't leave wire wrapping activity.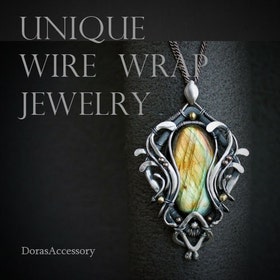 Several years I studied. I tried to find tutorials or any information about it. It was rather hard. First I made jewelry only. I created my own brand DorasAccessory. After 5 years I decided to prepare the workshops and the tutorials for people who like wire wrapping as much as me.
Today I return to my job and I work as a psychotherapist. But wire wrapped jewelry still is my true passion.