From the style of gown to the length of the veil, every detail is important on your most special day. That's why when it comes down to the detail of your bridal jewelry, it's just as important to finish off your wedding look for that momentous occasion.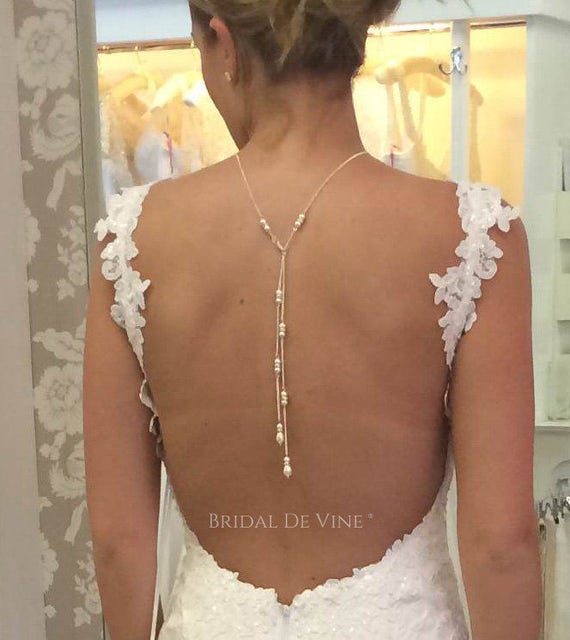 While there are all types of styles and combinations of wedding necklaces, the bridal lariat or backdrop necklace adds a ton of drama to the neckline, but also to the back. Think of it as jewelry to accent your beautiful gowns neckline, but also the back of your dress as well. Once you have taken that walk down the aisle to meet your groom, the rest of the guests will be staring right at your backside. Adding that additional element of surprise in one of the most simple ways is a backdrop necklace or a lariat necklace.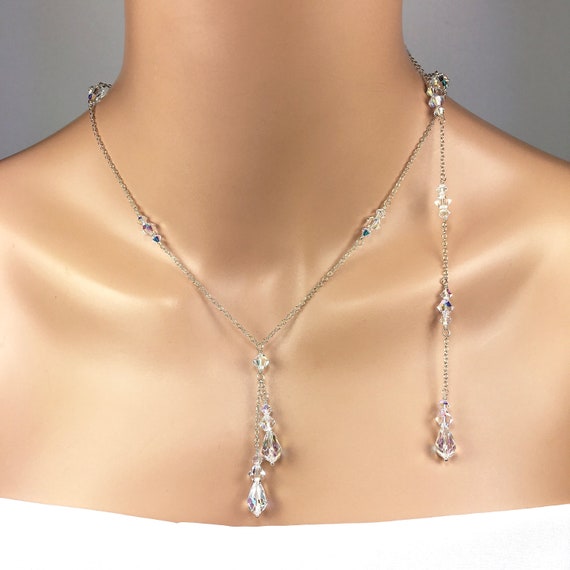 A bridal lariat is a longer style necklace, usually around thirty-two inches in length, but it can be shorter or longer depending upon the style and customizations you make. There is typically a front Y drop style or pendant style that accents most necklines. Whether you have a V neck front or a strapless gown, they drop in the front will drop between your v neck style gown or overlap your strapless gown in a fashionable and vintage feel and look. The back of your gown will be what determines how long your back dangle or lariat ties will fall.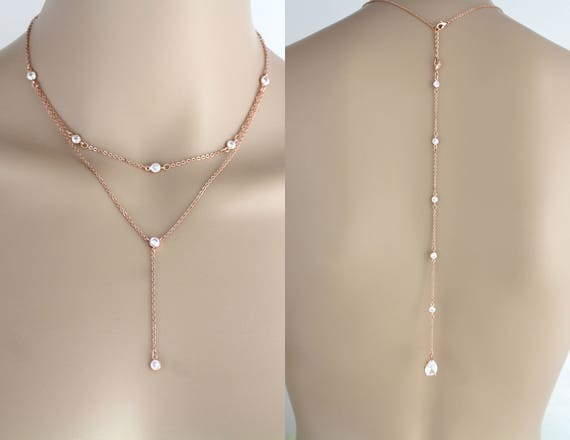 With a lariat, you take the two longer strands, strap one over the other just like tying your shoes, but without the bow or you may have it customize the way you want it. Then the dangles or drops elegantly down your back. With a backdrop there is usually only one chain or wired or strung piece that dangles down. Either style is both complimentary and an elegant choice for brides.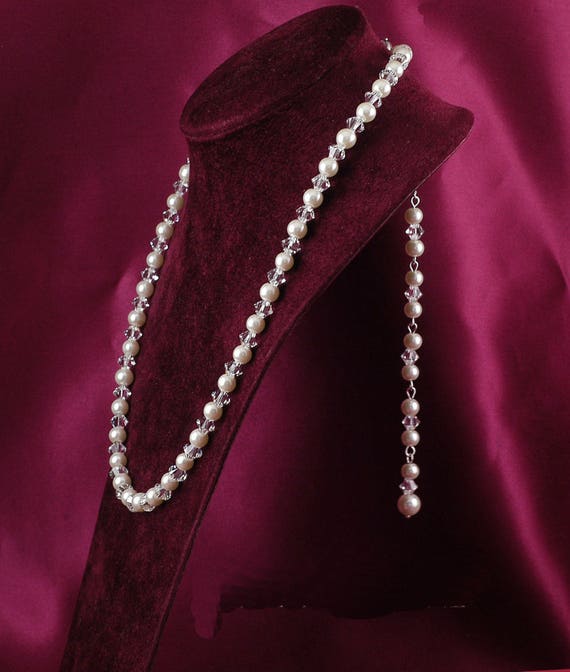 Wedding lariats and bridal backdrop necklaces are the perfect accessories to add some glamour and elegance to your wedding look. Shop around to find a bridal jewelry designer that can customize items such as the metal type to match your wedding bands and other wedding jewelry, crystal and/or pearl colors you have in your wedding gown or colors and lengths that work best for you.
After the wedding take your back dangle or bridal lariat on your honeymoon with you. There are additional moments where dressing up is just right for the occasion and you can get double duty out of your lovely sparklers there too.
Are you hearing wedding bells anytime soon? Well, you can purchase these beautiful wedding lariat backdrop necklaces.
| | | |
| --- | --- | --- |
| by Pralinettebijoux | by Ofralerner | by BridalDeVine |
Learn more jewelry making techniques from our Contributing Artists by having INSTANT UNLIMITED access to PAST and FUTURE DIY Jewelry Making Magazine issues. You will enjoy making your own jewelry and will never run out of ideas and inspirations.
Turn your jewelry making hobby into a business. Subscribe to our Membership Packages and learn how to make jewelry with DIY Jewelry Making Magazines!
MEMBERSHIP PACKAGES ON SALE
On sale @80% off!!!

One-time fee, Lifetime access

Before $199

Now $39.80

Use code allaccess80%

 On sale @30% off!!!

Monthly Subscription

Before $5.80/month

 Now $4.06

Use code gold30%